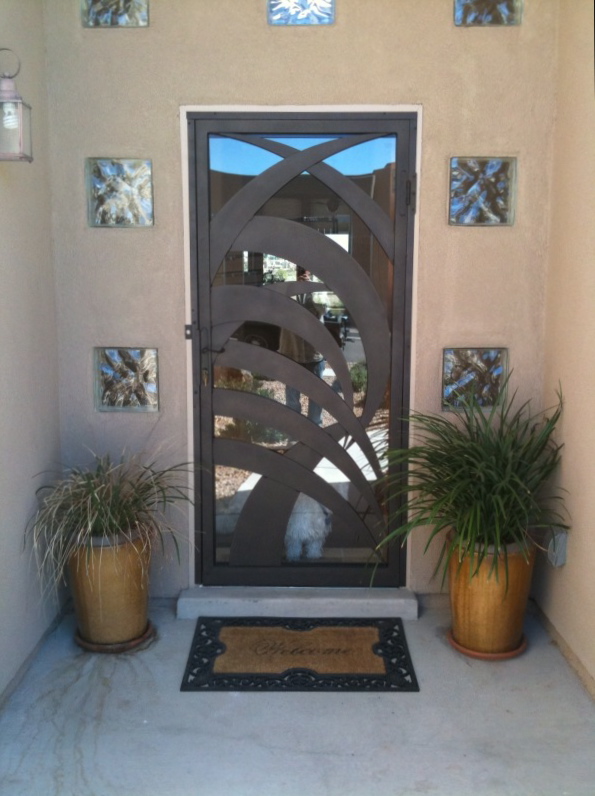 An Action Security Iron door features many innovative elements. Not only do the doors feature the "options" of our competitors as standard but exclusive features found only in an Action Security Iron door.
Four-Inch Steel Main Frame with Integrated Lockset.
The side of the door which contains the locks is one continuous piece of steel. Our locks are machined into the rectangular steel with 3/16" thick steel plates welded to the door for added strength. This allows for the use of a variety of locks from nearly any manufacturer. No longer are you limited to two or three lock finishes. The possibilities are endless. This frame is standard on our Signature line of doors.
Every door is a custom door and custom does not mean more money! Every Action Security Iron door is custom built to fit your home. Although everyone in the door industry refers to a standard door as a 36" x 80", most standard doors vary up to an 1" in both measurements. Older homes vary even more! Since your door is built for your home; it is a perfect fit, every time!
Interchangeable Glass and Screens.
No longer are you forced to chose been a screen door and a storm door. Our doors feature interchangeable glass and screen panels. This is an option even on full-view designs. Fixed glass panels in the middle of every door are a thing of the past
Security Doors Albuquerque New Mexico and Denver Colorado
Your beautiful home in New Mexico or Colorado deserves better than out-of-the-box contemporary doors, flimsy aluminum storm doors, inefficient sliding doors and sliding door guards Albuquerque New Mexico and Denver Colorado and worn fencing that needs constant repairs. We offer a custom solution for protecting and enhancing your home because we fabricate custom designer security doors Albuquerque New Mexico and Denver Colorado. Our wrought iron doors can provide impenetrable security, and you can choose a design from our gallery of security door images that we'll fabricate to your most exacting specifications. We can even build and ship security doors online for anyone regardless of location. Our product lines include designer security doors Albuquerque New Mexico and Denver Colorado that won't make your home look like a fortress but will protect your family from most common intrusions. Browse our security doors Albuquerque New Mexico and Denver Colorado to inspire you to design your own wrought iron doors with an astonishing range of color options, access controls and unique personal touches.
Wrought Iron Doors Albuquerque New Mexico and Denver Colorado
The beauty of wrought iron contemporary doors and fabrications can showcase your designing savoir fare that will make your home a showplace from the moment someone approaches your door. Wrought iron doors Albuquerque New Mexico and Denver Colorado deliver timeless elegance that can appear masculine- or feminine-inspired depending on the design you choose. As a family business, we're known for the personal touch we give to our products and to our relationship with customers. We stake our reputation on our work. We won't sell you anything that's flimsy and ugly. We lend our expertise to a wide variety of products. You won't have to pay exorbitant amounts to enjoy a customized security door or wrought iron gate. At affordable prices, we offer products that are crafted with genuine skill and artistry. Because your property is unique, it should benefit from unique security features and ornamental touches. If you have an idea for a one-of-a-kind project that would draw on our skills, don't hesitate to contact us. We cultivate a strong relationship with customers and ensure that they receive exactly what they're looking for.